Our new apartment can accommodate 2-7 people.
Domestic equipments:
97m² for 2 – 7 persons
Living room with corner seat, couch and Sat TV
Fully equipped kitchenette: electric stove with 4 plates, refrigerator with freezer, dishwasher, coffee machine, kettle, oven
1 double bedroom
1 double bedroom with additional single bed
1 room with bunk bed (ideal for children)
1 bathroom with shower, sink, toilet, hair dryer – window in the bathroom
1 bathroom with bath, sink and toilet – window in the bathroom
Balcony with a view of the mountains Puster Valley
terrace
WLAN / FREE WIFI
Washing machine, iron, clothes dryer
Bread roll service on request
Library German and Italian
Selection of board games
Entire apartment with underfloor heating (we heat CO2 neutral with wood chips)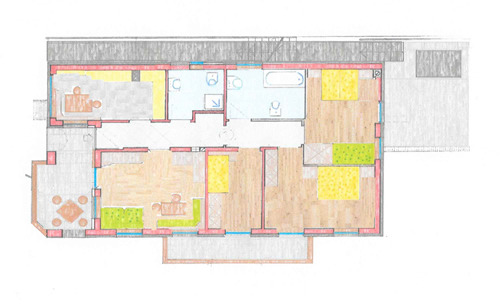 To make your holiday as pleasant as possible, the following services are included in the price of the apartment:
Electricity and heating
Fresh herbs from our herb garden in summer
Vegetables from our vegetable garden
WLAN / FREE WIFI
bed linen
parking spot
Cleaning
Holiday Premium Pass
With the Holiday Premium Pass you can use all buses and trains throughout South Tyrol for free. In addition to free mobility, guests receive discounts at various leisure facilities and local museums.
Pricing
Pre season
Season
Main season
Date

28.04.2019 – 08.06.2019


13.10.2019 – 23.11.2019


29.11.2019 – 24.12.2019

19.04.2020 – 06.06.2020

11.10.2020 – 28.11.2020

10.03.2019 – 27.04.2019




09.06.2019 – 20.07.2019


08.09.2019 – 12.10.2019


06.01.2020 – 01.02.2020

08.03.2020 – 18.04.2020

07.06.2020 – 18.07.2020

06.09.2020 – 10.10.2020

21.07.2019 – 07.09.2019


25.12.2019 –  05.01.2020

02.02.2020 – 07.03.2020

19.07.2020 – 05.09.2020

2 Persons
€ 60,00
€ 60,00
€ 70,00
3 Persons
€ 75,00
€ 75,00
€ 85,00
4 Persons
€ 90,00
€ 90,00
€ 100,00
5 Persons
€ 105,00
€ 105,00
€ 115,00
6 Persons
€ 115,00
€ 115,00
€ 130,00
7 Persons
€ 130,00
€ 130,00
€ 145,00
8 Persons
€ 145,00
€ 145,00
€ 160,00
The prices are exclusive of the local tax of € 1,35 / day per person
Children under 14 are exempt
Children up to 1.99 years stay free
Children over 2 years pay € 15,00 per day
Each additional person pays € 15,00 per day
Pets are not allowed in our apartment, we ask for your understanding
Our apartment is a non smoking area
You can pay us by cash or check